Creative Arts Workshops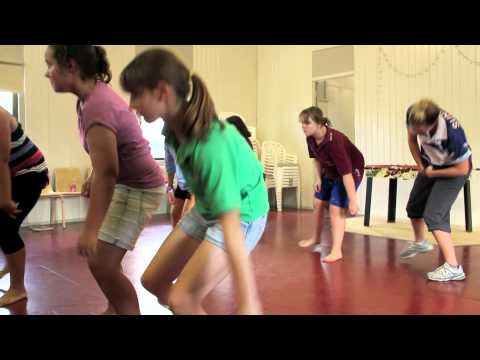 Winton Youth Centre Doco
Creative stuff to look at..
SHOCKWAVE RAP by humanventures
How to get involved:
Would you like to get involved in the Creative Arts Workshop program in one or more of the following ways?
Be part of our creative arts workshops
Have your creative facilitation skills supported by the young arts workers program
Have your business or personal project idea supported through the young entrepreneurs program
Let us know if you're a performer or artist and you'd like to contribute to our community events and showcases
Volunteer at our events by cooking BBQ's, driving buses, supervision, printing posters, donating cordial…. The list is endless!
This is it! Shockwave is finally here.
Shockwave Festival 2013 is here!  The Creative Pathways team are coming to the Central West one final time before the big event, helping everyone involved in the festival prepare themselves for the fun!
Longreach, Winton and Blackall are being treated to some brilliant workshops, spanning across the creative industries. Melinda and Bree Wells are back again with the Shockwave Glee Club, Young Musician Development and the famous Cup Song! There's photography and film with Aaron Veryard (be sure to check below for some of the amazing pictures) and of course, Sue Loveday is here to get the Shockwave site decorated and looking beautiful for the festival.
The workshops promise to be a blast and the team can't wait to be back as a part of the community!
LONGREACH
Workshops: Fairmont Room, Civic Centre
Wed 15th and Thurs 16th, 3:30-7:30pm
Longreach Show
The team will be crusing around on Friday from 11am
WINTON
Workshops: Winton Youth Centre
Sat 18th 10am-5pm
Sun 19th 9am-12pm
Saturday Chill-out session, 6-8:30pm
BLACKALL
Workshops: Blackall Memorial Hall
Mon 20th- Fri 24th 3:30-7:30pm
Contact Us:
For more information contact:
Workshop and Program Supporters
This trip is proudly supported by Winton Shire Council, Longreach Regioanl Council, Longreach State School, Blackall-Tambo Regional Council, Blackall State School, St Josephs Catholic School, 4LG, West FM and Human Ventures.
Funding Partners
This project has been assisted by the Australian Government through the Australia Council, its arts funding and advisory body.
This project is proudly funded by the Queensland Government's Gambling Community Benefit Fund.