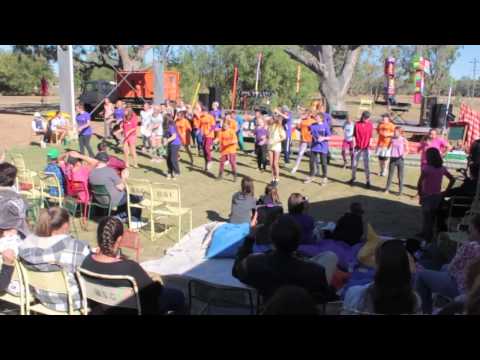 In This Bubble… performed by Chloe Tully by humanventures
Even more info about Shockwave
The multi-award winning Shockwave Festival forms part of  a creative skills development program working with young people aged 10 to 25 from throughout Central Western Queensland.
Shockwave aims to build young people's skills in event management, production, marketing and creative arts such as visual art and installation, music, dance, theatre, photography and film.
The festival also fosters regional cohesion and further exploration into new employment pathways in Central Western Queensland for young people.
Shockwave was conceptualised by program participants in 2008 and is planned and delivered each year by a core team of young people living in Central West Queensland, in collaboration with Human Ventures.

Shockwave wins joint-runner up in the National Music In Communities Awards 2011. Check out the post here for more info!
Shockwave WINS 'Best Festival/Event' at 2011 Outback Qld Tourism Awards! Check out the post here for more info!
Shockwave 2014 dates announced!
Saturday 2 & Sunday 3, AUGUST 2014
Blackall Memorial Hall & Skat Park, Blackall
FREE event for the whole community!! 
About
Shockwave is an award winning festival designed by, for and with young people and the wider community of Central West Queensland to celebrate, exchange and learn about creative arts and as an opportunity for young people's artistic expression.
Shockwave 2014…. what's in store!
LIVE MUSIC, DANCE, ART, PHOTOGRAPHY, SKATE BOARDING, SCOOTER RIDING, SPORTS, DISCO, WORKSHOPS, CHILL OUT SPACES, INDY MARKETS, FOOD and much more!
Shockwave is about inspiring young people! We do this by introducing them to exciting new artists they've never heard of. It's also about locating artists who've lived in, but left Central West Queensland and bringing them back to showcase their talents for younger generations.
Some of our Shockwave all star artists include:
Are you a young person and want to participate in Shockwave 2014?
Want to present something at Shockwave? (art, performance, run a workshop, sell wares in the market etc) Just tell us and we'll help you prepare!
Want to get a group together from your town and come along? Just tell us and we'll put you in contact with someone from your town who can help organise it!
You might be between 13 – 15 years and want to be a Shockwave Young Ambassador for 2014! As an ambassador you get to learn what it takes to run Shockwave, including training in leadership, event coordination and public speaking. Tell us if you're keen!
Are you an adult who can support young people from your town to participate in Shockwave 2014?
Be a supervisor and travel to the festival with a large group of young people from your town (must be over 18 years old)
Bring a small group of young people to the festival from your town
Host pre-Shockwave workshops in your town
Offer financial or in-kind support to Shockwave (money, prizes, food, art materials)
Be a volunteer in the lead up to, and during the event
Want to know more about Shockwave 2014?
Email: brooke [at] human [dot] org [dot] au or Ph: 07 3012 8531
become a facebook friend of Shockwave Blackall
2014 Festival Funding Partners
This project has been assisted by the Australian Government through the Australia Council, its arts funding and advisory body.
 2013 Festival Supporters
Shockwave receives ongoing support from Blackall-Tambo Regional Council, Longreach Regional Council, Winton Shire Council, West FM, Blackall State School, St Josephs Catholic School Blackall, ABC Open, ABC Western Queensland, Anglicare Central Queensland, Charleville Neighbourhood Centre, Rapad, State Library of Queensland, Blackall Heartland Festival, Australian Sports Commission, Coola Carpets Longreach, Parnaby's Leading Appliances, Winton State School, St Patricks Catholic School, Alpha State School, Alpha Chaplaincy, Edrine Keegan School of Ballet, Dance Blackall, Central West Indigenous Development and Human Ventures.
If you would like to support Shockwave, contact Brooke on 07 3012 8531